How To Choose Bras After Breast Surgery
Alot of things change after breast surgery.

Depending on the type of surgery you get, the size and shape of your breasts are likely to change.

There's also bound to be some increased sensitivity in the chest area. So, all things considered, you will need post-surgical bras that won't jeopardize your comfort and convenience while you heal from the surgery.

Choosing the right bras after breast surgeries not only impacts your comfort and convenience. It can also influence the entire recovery process after such a critical procedure.

Because skin sensitivity kinda increases post-surgery, you need all of the softness, comfort, and support your bra can offer during this time.

So, how do you choose the best bras post-surgery? Here, we discuss five (5) tips to help simplify the process.
Choose Soft Fabrics
You need proper comfort and softness after breast surgery. So, you'll be better off with a soft and breathable fabric like cotton. You can also go for bras with inner silk linings. Julie May bras are a combo of organic Pima cotton and pure silk that guarantees comfort, unlike anything else.

There are two (2) to be aware of in this case;

1. Avoid tight-fitting clothing, especially in hot weather conditions, and

2. Go for breathable natural farbics.

Juliemay has some of the best underwear products when it comes to choosing breathable clothing. The Juliemay line of comfort bras, for example, is made from a combo of highly breathable GOTS certified organic Pima cotton and an inner lining of luxuriously soft and dermatologist-certified pure silk.

The genius combination of natural fabric helps wick away moisture around your breasts, effectively preventing sweating, keep the area around the scar dry and clean. More reason why they are highly rated by breast surgeons for post srugerical recovery.
Avoid Synthetic Fabrics
You'll want to avoid stiff or tough fabrics like polyester or nylon. The last thing you want is a bra that overheats your breasts or causes moisture buildup during this recovery process.

Harsh chemicals and dyes used in clothing manufacturing could also be problematic if you have an allergy.

Silk, as well as cotton, helps you avoid this. Plus they are hypoallergenic, so you don't have to worry about allergies or skin irritations.

Fortunately, you'll find a vast collection of allergy-friendly underwear products from JulieMay are free from harsh chemicals, bleaches or toxic dyes. They are also proven by laborlatory tests and dermatalogists that they are devoid of things like latex or polyester, metals like nickel, and harsh dyes and chemicals, among many of the other substances used in conventional clothing manufacturing that could irritate the skin after breast surgeries.

Avoid Wires and Metals
Exposed wires in bras can cut into your skin. And because the skin around your breast can be quite numb post-surgery, you may not even know if this cuts into your skin.

Bras with no underwires won't pose the risk of anything chafing against your skin, especially if you're worried about post-op scarring.

The Fuchsia - Silk Back Support Full Cup Non-Wire Organic Cotton Bra is a perfect example. And because it doesn't contain metals, it's also perfect for days when you need to make an appointment for an MRI or CT scan. Just pair your dress with joggers and there would be no need to undress or change into a gown for your scan.
Choose Wide Bands
Bras with short bands can seem tight. They can also chafe against the skin. You don't want bras that seem too restrictive. When you start shopping for bras after breast surgeries, consider ones with wide bands for more comfort.

All JulieMay's bra bands are carefully wrapped with double layered Pima Cotton to avoid exposed elastics rubbing against your skins, and also provide a wide band for the wireless support you need after breast surgeries.

Liquid error (sections/pf-64edd2f4 line 417): product form must be given a product
'' Great if you have any post-op scarring, I feel like I'm walking on air as it's exceptionally lightweight and comfortable. It's a pleasure to wear after my surgeris!''

- Florence
'' Ideal if you need a MRI or CT scan as there is no metal. Just make sure you wear joggers to your appointment then no need to change into hideous gown for the scan.''

- Maree
'' When I had my appointment, my oncology nurses said my bra from JulieMay was very pretty, offered support, comfortable, and, most importantly, it was totally breathable! ''

- Maria
'' I checked with my doctor and she recommend JulieMay's bras to be used once the surgery recovery is over. She even recommends during and after radiotherapy due to the softness of the materials and being breathable. I am so glad to find this company! ''

- Teresa
JulieMay Lingerie is the only brand that has been accredited by AllergyUK to be friendly for people with allergic reactions to synthetic fibres and sensitive skins after breast surgeries. Our collections have been approved by qualified dermatologists to be hypoallergenic.
How the find the right fit after breast surgeries
Tape Measure Your Size
Your bra size is most likely to change after breast surgery. It's however very important to get the size and fit right, even now. So, you'll need to measure and get the right size all over again, after surgery. Many high-end lingerie shops do have bra fitters who can help measure your bra size. The best online lingerie stores also incorporate size charts and guides on product pages to help buyers get the size right, every time. Julie May does this, alongside having a dedicated bra-fitting guide page.
Measure Your Bust
Stand in front of a mirror and measure around the fullest part of your breast. Make sure you measure around the fullest part of your bust and the tape measure is level with the ground .
Measure Your Band
Stand in front of a mirror and wrap the measurement tape around your body, right underneath your breasts. Make sure the measurement tape is horizontal and wraps tightly around your body. The measurement you identify is your band size in inches. If you find yourself being between sizes, for instance 41, your correct size could be both 40 and 42.
Measuring Tips
- Bra-size measurement should take place over a well-fitted, unpadded, thin bra.

- Make sure your tape doesn't slip down or is placed too high up on the back.

- Re-measure for better accuracy

- Ask someone to help you if needed
5 tips in choosing the right bras after breast surgeries
Choose Soft Natural Fabrics
Avoid Synthetics and Harsh Chemicals
Avoid Wires and Metal
Choose Wide Bands
Easy to Pull On / Off
More Skin Friendly Collections
Front Fastening Organic Cotton Bra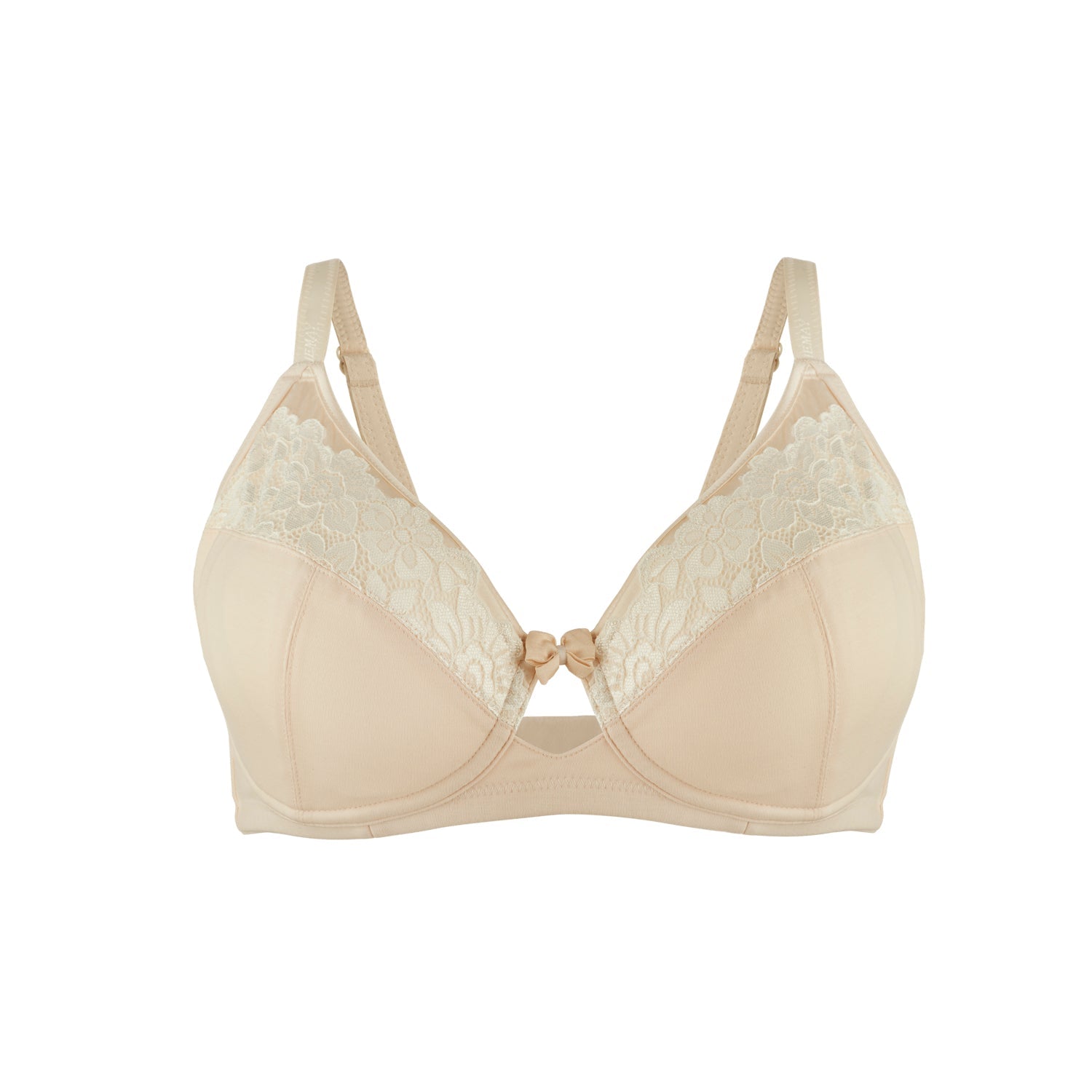 Non Wired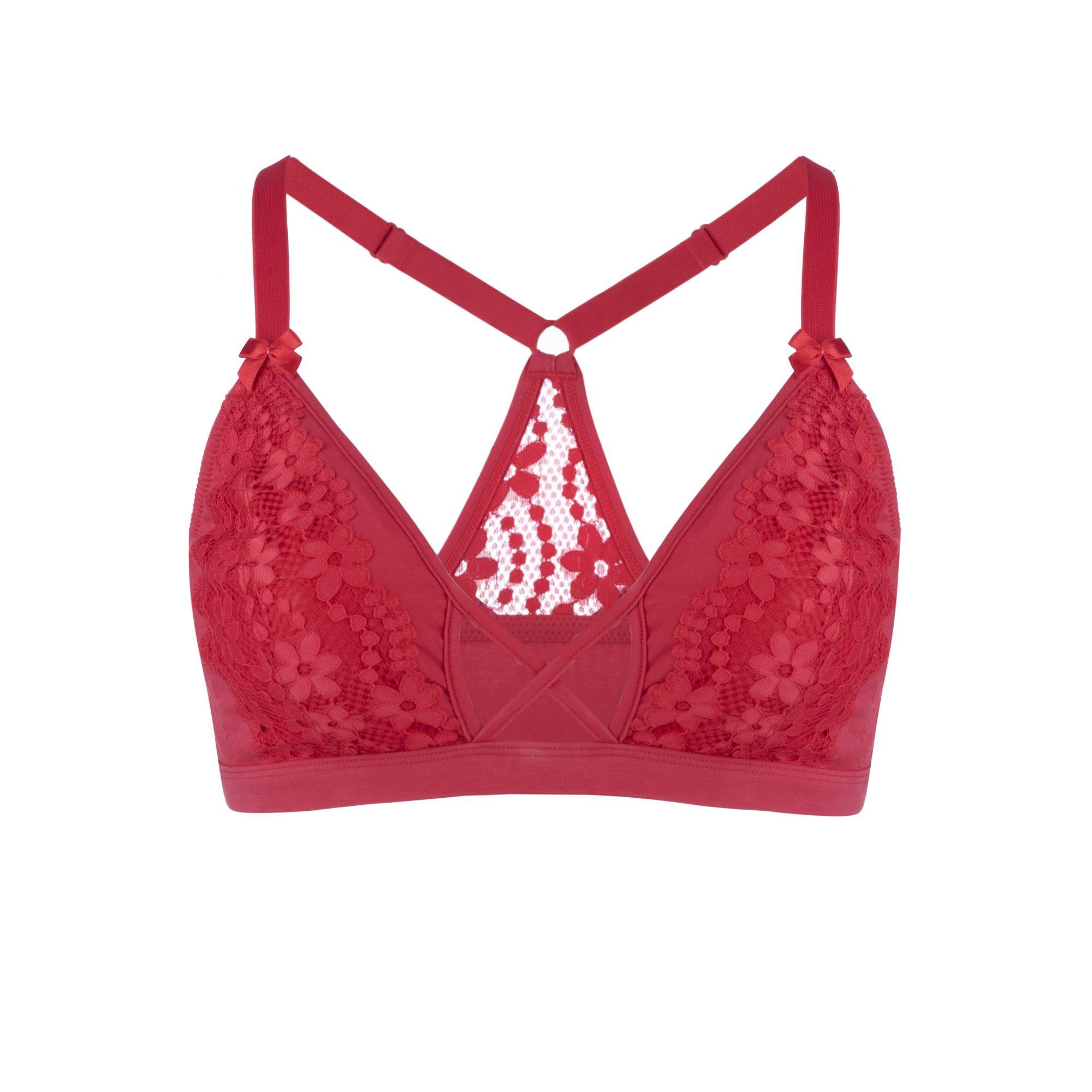 Organic Cotton Bralette
Post Surgery