Why Do I Have a Rash on My Breasts? The Itchy Truth About Rash On Breasts.
For many of us, only a few things come close to how worrisome and uncomfortable having a rash on the breasts can make us feel. The itching, redness, pain, and emotional trauma this brings can all contribute to the unsettling feeling that something's not quite right. As the only underwear brand that has all the products tested by dermatologists and certified by the Allergy Free UK, we have came across many enquires like these:
"I recently started biking to work. Unfortunately, this causes me to sweat a lot. My bra absorbs a lot of moisture. I try and wipe it away but it stays moist for quite a while during my workday. I now have red, painful rashes under my breasts. Cursed underboob sweat! "
"I have an uncomfortable rash-like irritation on my breasts for months. Essentially since my boobs are big, the skin is stretched thin and the blood vessels become tiny and easy to burst. I've treated it as contact dermatitis as has my dermatologist. I'm seeing her again on Friday because nothing is working. It's so terribly itchy. Has anyone had something similar and if so, what helped? "
"I had eczema ever since I was young and I now have rashes on my breasts. I have red itchy spots under one of my boobs and I've tried antiseptic cream but doesn't work. It's driving me nuts! I keep itching throughout the night and now it looks like I've been beaten up 😔 "
We'll dig deep into the truth of what could be the possible cause of rashes on breasts in today's blog.

Let's start by reminding you that there are a variety of reasons why you may be experiencing a rash on your breasts. So, it doesn't matter whether you're experiencing a rash for the first time or are a recurrent sufferer. Everything you'll discover in this article is nothing but the truth about breast rashes - from what causes your breast rashes to how you can prevent or treat them.
7 Common Causes of Breast Rashes
Intertrigo or heat rash
Eczema or psoriasis
Hives (and allergies)
Skin infections
Pregnancy or breastfeeding
Breast surgery
Ill-fitting bras
Intertrigo or heat rash
Sweating can make the skin around the breasts wet and warm. This is a more common occurrence during hot or humid weather conditions or after rigorous exercises. This condition can trigger an intertrigo or heat rash on the breasts. This could be a problem when you wear tight-fitting or non-breathable clothing.

There are two (2) to be aware of in this case;

1. Avoid tight-fitting clothing, especially in hot weather conditions, and

2. Go for breathable clothing, especially with your underwear.

Juliemay has some of the best underwear products when it comes to choosing breathable clothing. The Juliemay line of comfort bras, for example, is made from a combo of highly breathable organic Pima cotton and an inner lining of luxuriously soft and dermatologist-certified pure silk.

The genius combination of natural fabric helps wick away moisture around your breasts, effectively preventing sweating. More reason why they are highly rated for underboob sweat, hot flashes, and heat rash on breasts.
''I'll BE A LIFETIME CUSTOMER

This product was so soft, and honestly, there was a HUGE sense of relief when I first put this on! I've struggled for years with regular brand-name bras causing irritation and hives, and I could feel the difference immediately in this bra. ''

----Andrea. G
Eczema or psoriasis
Areas of the body with skinfold such as the armpits, buttocks, groin area, and under the breasts are more prone to eczema and psoriasis. Sweat, as well as anything rubbing against the surface of these skin areas, can trigger a rash.

To solve this problem, Juliemay bras are usually wrapped in double layers of organic Pima cotton in areas that could rub and dig against the skin areas around the breasts, from the underarm to the under band, and straps, among others.

The breathability and cooling properties of these Juliemay bras make them suitable not only for triggering eczema flare-ups but also for alleviating the symptoms in case flare-ups inevitably happen.
Hives (and allergies)
Allergic reactions to clothing, skincare products, or detergents can cause a rash on the breasts. In the case of hives, it's usually caused by an allergy or sensitivity to something you come in contact with. This allergy can range from pet pollen to dander, and medication. Latex in clothing is also a common cause of hives rash in people with sensitive skin.

You might want to stay far away from clothing made from synthetic products like polyester or nylon. Harsh chemicals and dyes used in clothing manufacturing could also be problematic if you have an allergy.

Fortunately, you'll find a vast collection of allergy-friendly underwear products from Juliemay.

These are made from skin-friendly organic natural fibers like cotton and silk. They are also devoid of things like latex or polyester, metals like nickel, and harsh dyes and chemicals, among many of the other substances used in conventional clothing manufacturing that could irritate the skin and induce allergic reactions in the form of rash and other symptoms.
''JUST WHAT I HAVE BEEN SEARCHING FOR.

The bra is excellent and fits perfectly. It is very pretty and, more importantly, soft on the skin and does not irritate. Finally, a hypoallergenic bra that actually looks sexy! It lifts up these babies so well!

The best part is that my skin under the bra was normal after wearing the bra all day! No itching!!! No rash!!! ''

--- Jean H.
Skin infections
Skin infections like shingles, as well as, yeast infections around the breasts can cause rashes in the areas around your boobs. If you're dealing with a yeast infection, the steps below might prove helpful in helping you manage the situation to prevent rashes around your breasts;

- Choose breathable fabric products that don't trap moisture close to your skin like the Juliemay comfort bras. These bras do a good job of wicking away moisture to keep the skin around your breasts cool.

- Keep your skin cool, clean, and dry as this will easily help treat most of the causes of rash between your breasts.

- Wear supportive bras that fit very well while providing optimum support and comfort at the same time.

- Take note of environmental conditions such as heat and humidity, which is why infections like this are more prevalent during the summer months.
Liquid error (sections/pf-aa4820b7 line 458): product form must be given a product
Breast surgery
Recent surgeries on the breast can also increase the likelihood of rashes appearing on your breasts. You might also want to look out for bras appropriate for post-surgical care to help you navigate the period after your surgery. Juliemay also has some of those.
Ill-fitting bras
Fit and support go a long way toward keeping your breasts healthy and comfortable.

Some of the best underwear and lingerie brands usually feature bra size guides prominently on their product description pages. Juliemay does, too. This is to ensure you only end up with something that fits nicely, anything else can cause another problem.
JulieMay Lingerie is the only brand that has been accredited by AllergyUK to be friendly for people with allergic reactions to synthetic fibres and sensitive skins. Our collections have been approved by qualified dermatologists to be hypoallergenic.
How the right choice of clothing can help prevent rashes on your breasts
You'll notice that we keep recommending several underwear products throughout this article. This is because choosing the right clothing can play an important role in preventing rashes on your breasts, especially when it comes to the piece of clothing that sits directly on the skin areas of your breasts.To make the best decisions in this case, here are some tips on how to choose clothing that can help prevent breast rashes:
Choose breathable fabrics
Clothing made from breathable fabrics like cotton, bamboo, or silk can help prevent excessive sweating, which can contribute to a rash on the breasts. All the products we've recommended until now are made from some of the most breathable organic natural fibers.
Wear loose-fitting clothing
Tight-fitting clothing can rub against the skin and cause irritation, which can lead to a rash. Opt for loose-fitting clothing instead. For nightwear, something like the 100% Pure Silk Camisole Top In White is what we mean.
Avoid synthetic fabrics
Synthetic fabrics like polyester or nylon can trap moisture against the skin, which can lead to heat rashes. Avoid wearing clothing made from these materials if you are prone to breast rashes. Also, look out for bras with metal components made from nickel that could cause allergic reactions in sensitive skin.
Choose comfortable bras
Wearing bras that are too tight or do not fit properly can cause irritation and contribute to a rash on the breasts. In all you do, try to choose a comfortable, well-fitting bra that provides adequate support.
Other tips to prevent/treat breast rashes
Practice good hygiene

Regularly washing your clothing can help prevent the buildup of bacteria and other irritants that can cause rashes. Remember to also take your shower regularly and change your clothing regularly if you've been sweating. When cleaning up, just pat your skin dry rather than rubbing the towel against it.
Use mild skincare products

Some of the harsh chemicals in soaps and skincare products can strip the skin of its natural oils. Because this can cause irritation and dryness, setting the ground for a rash, always consider using mild skincare products and fragrance-free ones.


Moisturize regularly

Another way to prevent dryness and irritation that precedes a rash is to keep your skin properly moisturized. For this, you can use a fragrance-free, hypoallergenic moisturizer after bathing or showering.
Avoid scratching

It can be tempting to scratch a rash, but this would only make it worse by causing further irritation and potentially introducing bacteria. Avoid scratching. Instead, try a cool, wet compress or over-the-counter anti-itch cream.
Medical attention

It is important to seek medical attention if you're experiencing a persistent rash on your breasts or if the rash is accompanied by several other symptoms.Your healthcare provider can help determine the underlying cause of the rash and recommend appropriate treatment.
Take care of your skin…
AA rash on your breasts can be very uncomfortable and it's not probably something you cleared right away. It's important to remember that many potential causes as well as treatment and preventative strategies are available.You might want to seek medical attention from dermatologists and skincare specialists to determine the underlying cause of your breast rash and the best course of treatment for you. In the meantime, you can also take proactive steps to prevent and alleviate the symptoms.Start by choosing skin-friendly and allergy-free clothing - especially your undies.

Juliemay has the best of this bunch if you don't know where to look. Also, commit to practicing good hygiene and skincare. These things, as small as they seem, can go a long way toward keeping the skin around your boobs very healthy, comfortable, and rash-free.
More Skin Friendly Collections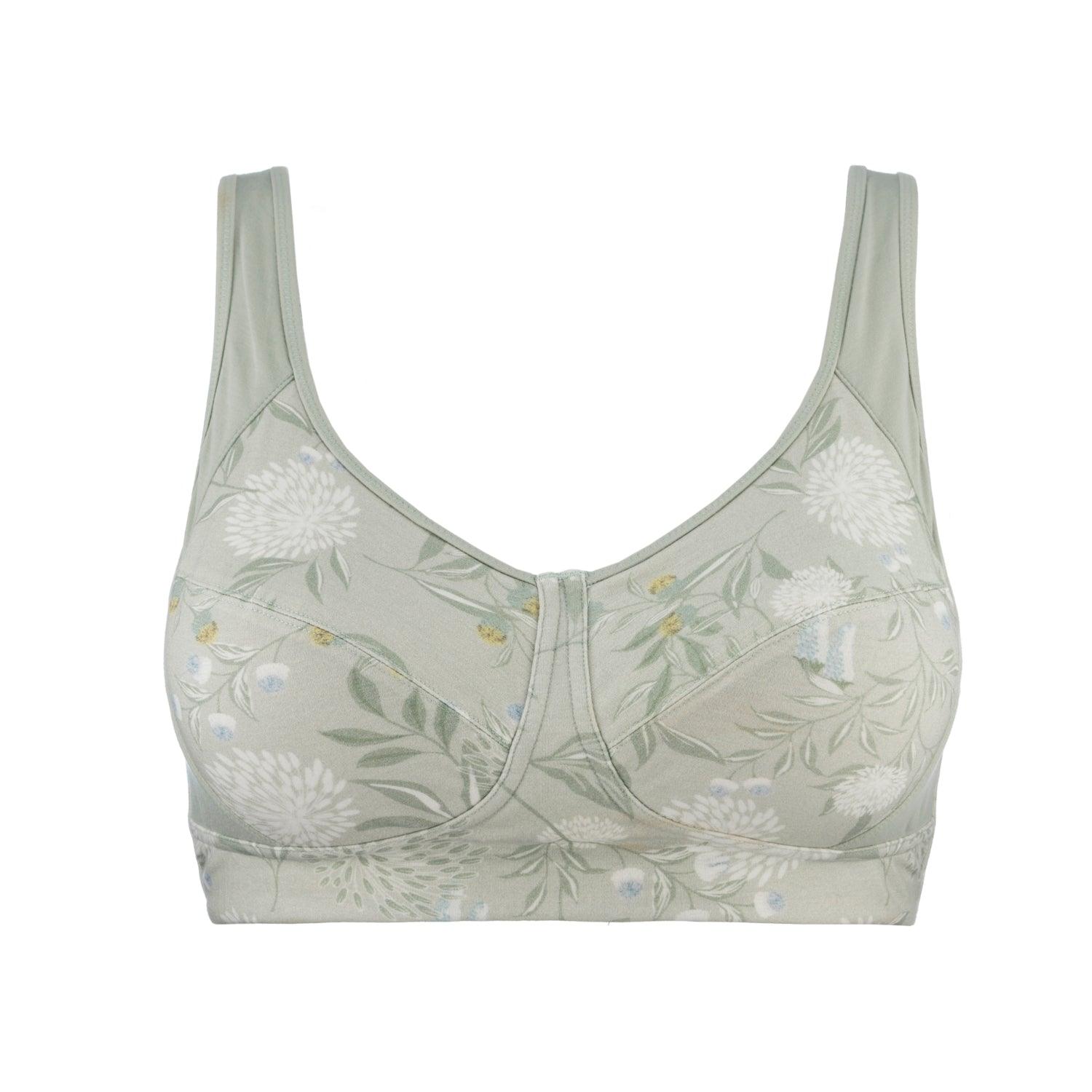 Back Support / Sports Bra
Front Fastening Organic Cotton Bra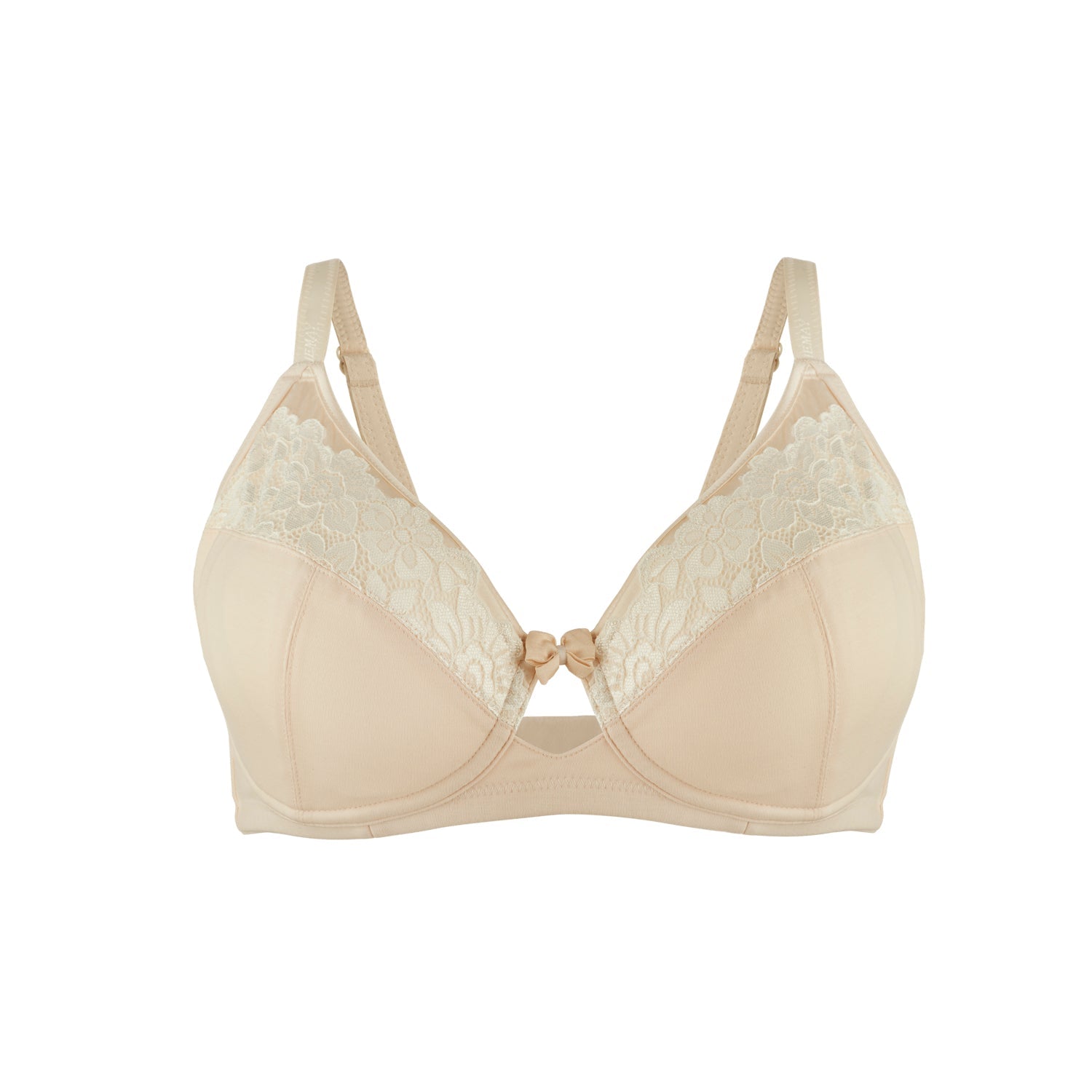 Non Wired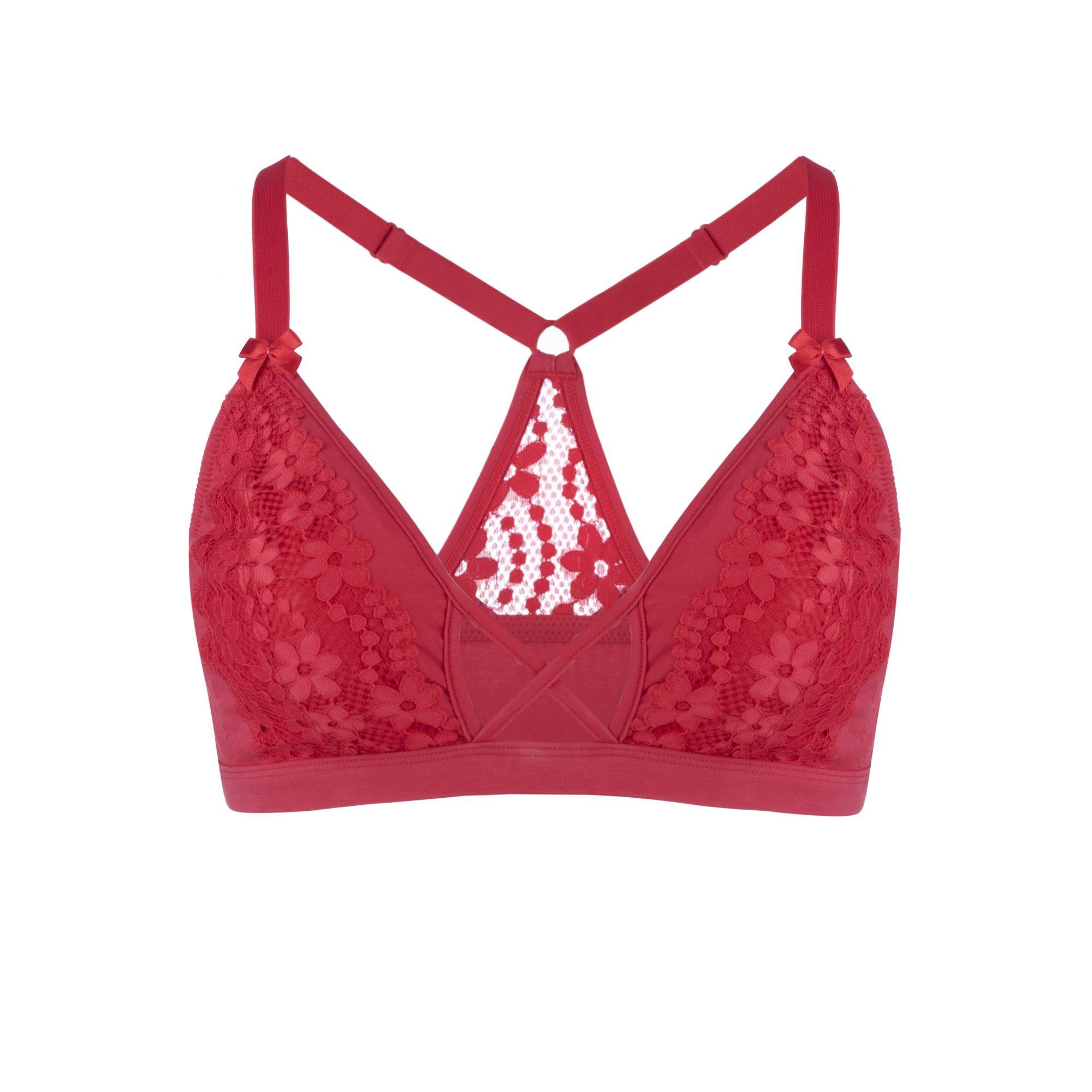 Organic Cotton Bralette